Unless you have been living under a rock you would have seen that Marvel Studio's first Disney+ series has been gripping people across the world – myself included. Actually, this is a perfect chance for me to do a quick little plug – I have been blogging over on my site about the ramifications of Wandavision for the last few weeks with Episode 5's breakdown dropping today so check it out here ONLY if you have watched it as its deep in spoiler territory. But I am not here to talk about the specifics and this is a SPOILER FREE ZONE. Instead I am going to talk more about the direction of the MCU Disney+ Series in particular. If you want a blog on the general future of the MCU there's a blog for that too -> here.
I am a huge Marvel fan and I think and talk about this A LOT but I wanted to go into this setting the scene for those of you who may not be super familiar with the approach Disney is taking this year and the Universe they are building.
What Wandavision has shown is the quality that can be produced for the small screen while also feeding into a wider universe which at the moment is a very 2020/2021 solution to a very 2020/2021 problem. Cinema is effectively off the cards at the moment, and although there are four Marvel films lined up this year (Black Widow, Shang-Chi, Eternals and Spider-Man 3) these aren't guaranteed to even release this year. What is guaranteed, is the fact a lot of people are staying indoors and are watching more on demand than ever before, so being able to put this long form content in front of a primed audience which tells stories off the back of huge films like Avenger's Endgame is a great idea. Disney+ also offers a very accessible catalogue of not just Marvel but Star Wars, Disney Films, Pixar among many other shows coming with Stars meaning that it is a viable alternative to a small streaming service you may know called Netflix who are already creating their own content.
Remember, this isn't the first time Marvel heroes have appeared on the small screen. We have had loads of series, most unconnected and some loosely connected to the MCU that have been met with varying degrees of success. Take the Inhumans that dropped in 2017 which was based within the MCU – it was a disaster and had no traction at all, while long running series like Agents of S.H.I.E.L.D followed the MCU events for a time before diverging to become their own thing and was subsequently met with fan praise. Then completely unlinked, series such as the Runaways and Cloak and Dagger ran on Hulu and Freeform and were okay but relatively inaccessible due to convoluted origin stories, drawn out plots or simply that didn't live on an accessible channel. And we can't forget the Netflix shows which were, on the whole, great! They took a dark look at characters such as Daredevil and the Punisher and their shows contained blood, violence and sex; a contrast to the largely positive, low threat feels coming from the MCU films at the time. These shows were also set within the MCU but, due to rights and contractual agreements, distanced themselves from the MCU and instead existed within their own isolated corner of the wider Universe. Despite most of the solo series being strong, their team up show, the Defenders, failed to kick start the Netflix Universe and in a way served as the beginning of the end for these characters.
Disney+ is taking this concept of original content and throwing a lot at it and 2021 is shaping up to be the Year of Marvel. Of the below, Wandavision, The Falcon and the Winter Soldier, Loki, What If…?, Ms Marvel and Hawkeye are all slated for this year. That is a lot of consistent weekly content coming from Disney which will also keep up those annual subscriptions. This also doesn't include the most recent announcement of the Black Panther series. Also, if they perform well enough we MAY (but unlikely) see the likes of Black Widow on dual release or even potentially Disney+ Premium only.
So I want to look at a few questions; what has Wandavision done right where those before have failed? What has Wandavision done wrong compared to some of their predecessors? And finally, what does this mean for the future Disney+ Series and why should you care?
What has Wandavision done right so far?
I think its fair to say that the concept of the show itself is unique and brave. For those who don't know, the top-line summary is that it follows Wanda (Scarlet Witch) and Vision (Dead) in a sitcom style series following their family life and the sitcom style takes a different decade style every week. If you consider the last two films we saw were the high budget, high octane Avengers: Endgame and the lighter toned, entertaining Spider-Man: Far From Home, the style of this series feels out of place. But, you know what? It works really damn well. I won't spoil it for people who haven't watched it but it's blend of character building, comedy and homage to TV history works really well and the show weirdly doesn't feel isolated from the MCU.
Crucially, it creates enough tension and mystery for you to consider the episode and keep you wanting more. I was annoyed at first that I couldn't binge it all on release but after sitting through five weeks of episodes and waiting with baited breath for the next episode, it was the right decision. I am genuinely excited for the Friday morning viewings and I spend a week thinking about the last episode which means I digest everything I see. If I had binged it, I would have remembered the start, the end and the major twists and potentially missed all the Easter Eggs, nods and genuine secrets that are scattered about each episode. It also gives the writers more time to explore the characters in more depth and flesh out the setting in more detail. Whereas a film has, two and half to three hours on average to really set the scene, create the climax and then tie it up, the series model allows for a slower development to really create the emotional connections. Socially it means that every week, Wandavision is trending on Twitter and commercially people remain subbed. This is clearly a lesson they learnt from the Mandalorian and the right decision in my eyes.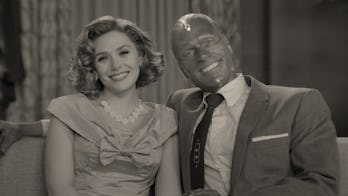 Although we are only five episodes in, it certainly shows that the budget allocated to this show is warranted. Game of Thrones recently showed that you can justify these sorts of budgets now for the small screen and Wandavision is continuing that trend. The CGI and effects are on point as if stripped from a Marvel film directly. The costumes, the sound and the sets all feel blockbuster and not streaming service which makes these an incredibly enjoyable viewing experience.
You also need to consider that compared to a lot of its predecessors, Wandavision is leveraging the wider universe to allow it to explore the world it is creating. You don't need the set up so much anymore as you can already follow the growth of these characters from Age of Ultron through to now and by utilising this familiarity and leaning into it, they can jump into the world much more successfully. Other series such as the Netflix shows skirted around the events of the Avengers but still had to establish the worlds their heroes inhabited while the 'unconnected' Fox series such as the Gifted for example had to completely build this world. One of Wandavision's strength is using already established characters and shared histories to launch the series a lot quicker and more effectively as it knows where it sits and the future impact it has. I wouldn't say that the other series were wrong to take the approach they did, it's just they had their hands tied contractually while Wandavision is free to use most of Disney and Marvel's portfolio.
Where has Wandavision struggled?
I will caveat this and say, that the main area I think it could be struggling is not an area I agree with and I actually think it is a strength. But, the very definition of the series being a slow burn mystery that follows two B list heroes (sorry fans – they are up and coming but they aren't core A list yet in terms of the MCU) living their suburban life and not an action packed Marvel series as you would expect with Marvel films makes this, on a paper, a tough series to sell. A lot of feedback I heard from the first few episodes was 'it's so slow' or 'nothing has really happened' which I understand but as a fan it was what I needed. If you are more of a 'casual' fan who is excited more by the action elements of the MCU then I can appreciate why it could be a struggle. Fortunately, the marketing and hype has probably brought a lot of the on-the-fencers over to the right side of the fence.
I would also say that, although the cast is great and full of new and returning faces, at this point there is an imbalance between the screen time that they share. This is to be expected given the twists and turns in the last few episodes but it does mean some of the earlier characters are side-lined. That doesn't mean they won't return and I imagine they will but there are a few characters who seemed to have vanished.
What does this mean for the future of Disney+ Series?
So taking all this on board, what do I think this means for the future of Disney+ series and why should you care?
Firstly, the fact they have done such a superb job of creating such a unique story and delivering it in an accessible and enjoyable way means that they have also set the standard for the content that should produced. Anything coming after this should be as good from a quality and production standard as this meaning it rivals an MCU blockbuster film.
Secondly, it also means we can see some new approaches to storytelling and some more niche stories/concepts being tackled. For example, Loki's series will be dealing with the fallout of time travel and alternative realities and will include the Time Variance Authority (Time cops) which would be hard to showcase in films while What If…? will look at alternative stories and outcomes for the origin stories we have seen over the years such as What if Peggy Carter had the Super Soldier Serum? After seeing how Wandavision has been handled I have a lot of faith in Marvel Studio's ability to create these shows and give them each a unique feel. That won't mean that some of the more 'straight forward shows' like The Falcon and the Winter Soldier won't be good and they will likely surprise us, just that the streaming service model allows for great experimentation and diversity.
Finally, it builds hype. This weekly discussion raises awareness for this whole universe and genre and it brings in unlikely fans and die hard Marvel followers alike and this can only be a good thing. It gets people talking and it gets new ideas out there but it also gives Marvel a lot more time to listen and learn. With a film, its released and then you need to wait years for the sequel as well as for them to apply any learnings. With a series this changes can sometimes even be made on the fly or at least adapted in future series meaning these shows will get tweaked as they go.
---
My arms hurt from writing this and if you are reading this, thank you for sticking with it. There is a lot to talk about and I can get carried away but I would love to hear what you think too. Do you think Wandavision has set the standard for future shows and how do you feel about the movie/series mix Marvel is taking going forward? Leave us a message below or tweet us on the old faithful Twitter.
Remember as well to listen to the TripleXP podcast that drops every Monday and you can find it on Spotify, YouTube and Podbeam! Head over to the Podcast page where you can find all the links to these. And of course, any likes, comments, follows etc are all very welcome – we love to hear from you guys to see what you think of what we are talking about and just even how you are! Stay safe, wash your hands and catch you next week!